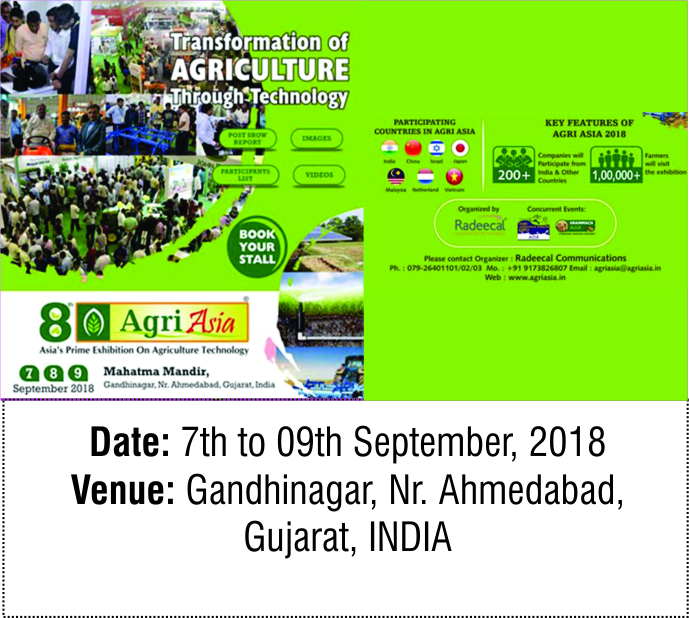 AGRI ASIA 2018, AGRICULTURE EXHIBITION, GUJARAT INDIA
AGRICULTURE EXPO IN INDIA – WHY TO EXHIBIT?
Agri Asia is the perfect platform to gain access to the most promising prospects under one roof.
Asia's prime Exhibition on Agriculture Technology , Agri Asia provides a unique platform to showcase your products, services and technology from Pre Harvest to Post Harvest. It also offers networking opportunities with targeted groups like high ranking agriculture officials to identify and explore business as well as investment opportunities in the Asia. This Agri Event is a neutral platform where farmers, companies, Govt. Departments, researchers and all stake holders of Agriculture industry are equally beneficial.
VENUE INFORMATION FOR AGRICULTURE EXHIBITION – AGRI ASIA
The upcoming agriculture exhibition in India, Agri Asia 2018 will take place September 07 – 09, 2019 at Mahatma Mandir Convention Center in Gandhinagar, Gujarat, India. Mahatma Mandir is located in Central Vista, Gandhinagar and is 60,000 square meters in size, including outdoor areas.
TRAVEL ASSISTANCE FOR EXHIBITION – AGRI ASIA
Participants are requested to check with the Indian consulate or diplomatic mission in their home country or with their travel agency for visa requirements. It is the responsibility of the participant to obtain a visa if required.
It is highly recommended that passports have at least six months validity remaining after your intended date of departure from India.
For any further details or assistance you can contact us any time.
Additional Reasons to Exhibit in Agriculture Trade Show
Gain fast and cost-effective access to Asia's massive agriculture and agro-food market
Showcase your full range of products and services in the Asia's largest Agriculture and Animal and Dairytech Show
Network with the most important key decision makers from across the region
Build valuable networks in Asia and expand your business
Stay informed about competitors and industry developments
Generate valuable sales and maximize your return on investment
EXHIBITORS PROFILE
The exhibition is open for all companies and organizations with products or services related to the following topics :
Agri Ecology
Agricultural Building Contractors
Agricultural Machinery & Equipment
Agro and Food Processing
Aquaculture
Biotechnology
Fertilizers & Chemicals
Floriculture
Fork lift & Handling Equipment
Greenhouses
Horticulture
Irrigation and Water Technologies
Livestock & Dairy Farming
Marketing & Export / Import Services
Organic Agriculture
Plant Protection
Plasticulture
Post Harvest Treatment
Poultry
Precise Agriculture
R & D
Renewable Energy
Rural Development
Seeds, Nurseries & Plant Propagation Materials
Small Ruminants
Software & Hardware
Veterinary
Turnkey Projects & Knowledge
Transfer
CONTACT
RADEECAL COMMUNICATIONS
402, 4th Floor, "Optionz" Complex,
Opp. IDFC BANK,
Between Girish Coldrink and Xaviers Corner,
Off C.G Road, Navrangpura,
Ahmedabad- 380009,Gujarat,INDIA.
Tel – 079-26401101/ 02/ 03
E Mail :agriasia@agriasia.in
Disclaimer:The information furnished has been collected from varied sources, and hence, is subject to change. To confirm the show schedule kindly contact the show organiser.