Event Navigation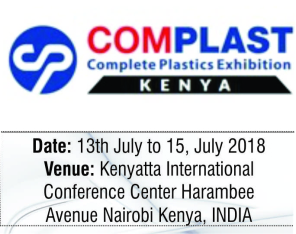 COMPLAST KENYA 2018
SMART EXPOS & FAIRS (INDIA) PVT. LTD. (SEFIPL) is a Excellent Domain Knowledge. 35 years of Industrial experience, 25 years of relationship with plastics manufacturers associations, 13 years of experience with associate company Enterprising Fairs India Pvt. Ltd., are organizing international exhibitions in South East Asia & Africa. Last 12 years of outstanding expertise and experience in organizing B2B expos and marketing initiatives in India.
Kenya Association of Manufacturers – KAM
KAM is the representative organization for manufacturing and value-add industries in Kenya. In pursuit of its core mandate of policy advocacy, KAM promotes trade and investment, upholds standards, encourages the formulation, enactment and administration of sound policies that facilitate a competitive business environment and reduce the cost of doing business. KAM aims to promote competitive local manufacturing in a liberalized market.
Confederation of Tanzania Industries – CTI
CTI is an independent, self-financed Business Membership Organization that aims to ensure that there is a conducive legal, financial and economic environment within which industries can operate effectively, prosper and contribute to national wealth and development. CTI provides excellent value added services to enhance competitiveness and profitability of the manufacturing and service industries through dedicated efforts and innovative solutions.
Tanzania Chamber of Commerce, Industry and Agriculture – TCCIA
TCCIA plays an important role in moving on from a centralized, planned economy towards a more open, mixed economy giving full scope to privately owned enterprises and farms. With offices in all 21 regions of mainland Tanzania and over 92 district centers, TCCIA helps link the private sector to the Government with a view toward promoting the development of private enterprise. TCCIA's services to the business community include business information, training, advocacy, business supportive initiative (i.e. processing business license) and business promotion activities such as trade fairs and missions.
Uganda Association of Manufacturers – UMA
UMA is one of the largest organizations representing the broad industrial and commercial sectors of Uganda's economy and an important forum for the private sector in the country. UMA has a membership comprising of both the private and public sector. UMA serves the interest of its members shaping national and regional policies and leading the industrial sector towards sustainable global competitiveness. It works to promote and protect the interests of industrialists and manufacturers in Uganda and advise Government on key policies affecting industry.
The Plastics Export Promotion Council
The Plastics Export Promotion Council (PLEXCOUNCIL), the Ministry of Industry and Trade is the government responsible for the advancement, promotion, governance, regulation, management and growth of industry and trade. The former Ministry of Trade has its origins in 1945 with the formation of the modern National Unification Cabinet, and became a ministry in its own right in 1955.The Ministry of Trade merged with the Ministry of Industry in 2007 to form the Ministry of Industry and trade. The current Minister of Industry and Trade is Vu Huy Hoang. Ministry main offices are located in Hanoi.
Highlights of the Complast Kenya
Welcome to the COMPLAST KENYA. The major highlight of this edition will be the significant number of visitors not just from Kenya, but from all the neighbouring East African countries!
COMPLAST KENYA will be leveraging the support of leading chambers in Kenya, Tanzania and Uganda who have already committed their support to promote the event. This will help widen the reach of our promotional efforts and bring in visitors from all the East African countries – Kenya, Tanzania, Burundi, South Sudan, Somalia, Malawi, Madagascar, Zambia, Seychelles, Ethiopia, Rwanda and Uganda.
The largest Sea Port in Mombasa, the country is the largest incoming source of products by sea to the East African region from Arab countries, Indian Sub-continent, Europe & Far East.
For Space Booking Contact…
No.116,Manickam Lane,
(Near Hotel Zen Garden) Mount Road,
Guindy, CHENNAI 600 032,
India.
Phone: +91 44 2250 1986 / 87
Mail to : plastics@smartexpos.in
Mr. B Swaminathan
+91 97890 95247
Mr. Narendar Bafna
+91 99529 66752
Mr. Sasi Kumar
+91 90030 25103
Disclaimer:The information furnished has been collected from varied sources, and hence, is subject to change. To confirm the show schedule kindly contact the show organiser.