Event Navigation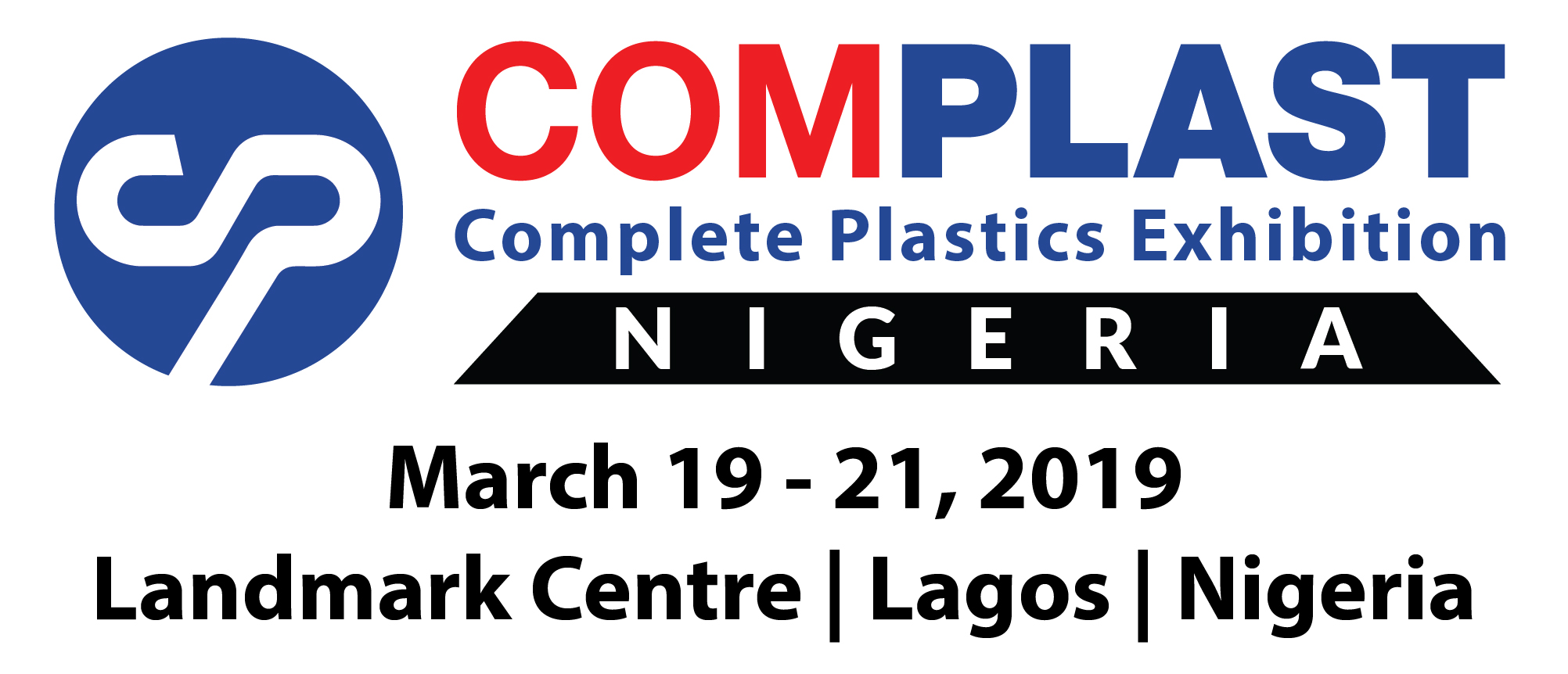 COMPLAST NIGERIA 2019 PLASTIC MACHINERY EXHIBITION
Who should visit Complast- Nigeria?
Important decision makers from top/middle management of local companies
Skilled professionals of plastics industries
Members of local industry associations and chamber of commerce
First generation and budding entrepreneurs
Exhibitors Profile
Manufacturers, Traders and Marketers of the following:
Raw materials, Polymers & Resins, Intermediates, Blends & Alloys, Composites
Specialty Chemicals, Masterbatches, Additives, Colourants, Fillers & Reinforcements
Processing Machinery – Extrusion / Moulding
Moulds & dies
Converting Equipment – Printing / Decorating / Slitting & rewinding / Laminating / Bag and pouch making
Ancillary Equipment – Surface treaters / Dryers / Scrap grinders / Mixers / Conveyers & Material loaders
Testing equipment / Software solutions
Recycling plants & auxiliaries
Promotion of Plasticulture
Training institutions / Publishers
Finished Products
COMPLAST NIGERIA 2019 has been actively promoted through various media and promotional activities. Some of the media used for promoting the event include :
Existing plastics processors
Aspiring new entrepreneurs
High decibel print ads, bill boards in industrial areas, posters in companies / mails and restaurants ads in industry association, chambers & trade magazines
Banner ads in industry portals
Direct mailers – from multiple data base
Informative e-mail campaigns – direct and on behalf of exhibitors
SMS reminders
Connect through Social media – Facebook & twitter
Conversations through WhatsApp
High profile CEO Forums & technical seminars
Networking through road shows for the Industry professionals
SMART EXPOS & FAIRS (INDIA) PVT. LTD. (SEFIPL)
has vast experience in handling domestic and international exhibitions. 13 years of experience with associate company Enterprising Fairs India Pvt. Ltd are organizing international exhibitions in South East Asia & Africa. Last 12 years of outstanding expertise and experience in organizing B2B expos and marketing initiatives in India. The prime focus of Smart Expos & Fairs is to facilitate business convergence for categories such as Plastics, Rubber, Packaging and Manufacturing, which are among the fastest growing economies in the world. SEFIPL organizes professional trade shows in the field of Plastics, Rubber and Manufacturing especially in developing countries like India, Sri Lanka, Kenya, Myanmar, Vietnam and Nigeria. SEFIPL members have vast experience in marketing and in the field of Plastics and Packaging. The company is based out of Chennai.
CHENNAI:
No.116,Manickam Lane,
(Near Hotel Zen Garden) Mount Road,
Guindy, CHENNAI 600 032,
India.
Phone: +91 44 2250 1986 / 87
For Space Booking Contact…
Mr. Narendar Bafna
+91 99529 66752
Mr. Sasi Kumar
+91 90030 25103
Mr. Vijay. N
+91 97890 95249
Disclaimer:The information furnished has been collected from varied sources, and hence, is subject to change. To confirm the show schedule kindly contact the show organiser.