Event Navigation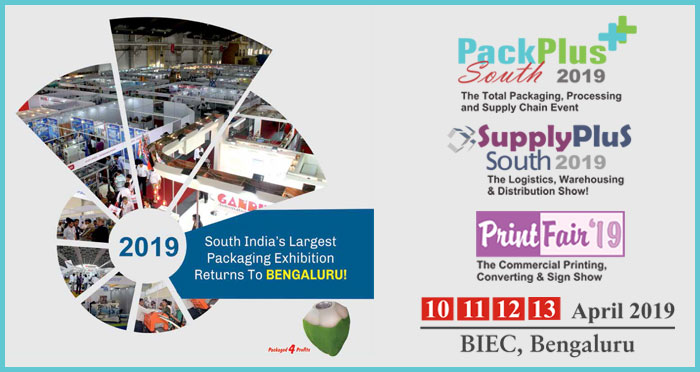 PackPlus South 2019, Bengaluru
PackPlus South 2019, Bengaluru
The Total Packaging, Processing and Supply …
Welcome To Packplus South 2019
The unprecedented success of PackPlus New Delhi has added to the enthusiasm, and the industry is now gearing up for the South edition of the event. Slated to be held from 10-13 April 2019, PackPlus South will come together with PrintFair and SupplyPlus at the state-of-the-art venue of Bangalore International Exhibition Centre (BIEC), Bengaluru. The requirement for packaging is rising across sectors with traditional businesses preferring to package products. The retail and e-commerce is growing rapidly, giving the sector a robust growth. The industry certainly presents potential growth opportunities for new entrepreneurs, and small and medium enterprises.
PrintFair, the Commercial Printing, Package Converting & Digital Sign Show, will present a wide range of exhibitors from Prepress, Press, Postpress and Paper Converting. The event will give an opportunity to the participants to discover new business opportunities with quality control managers, Design houses, art directors and production managers and graphic designers. SupplyPlus South, the Logistics, Warehousing & Distribution Show, will bring companies from Warehousing, Handling, Transportation, Software, Track & Trace, Cold Chain, Weighing & Testing Equipment, Work and Environmental Safety Technologies on board.
EXHIBITOR PROFILE
Packplus South 2019
Packaging Machines, Materials & Equipment
Coding & Marking Solutions
Flexo, Gravure, Offset & Screen Printing Presses
Label Printing Equipment
Corrugated Box Making Machinery
Paper, Film, Foil, Inks & Other Consumables
Food Production & Processing Equipment
Packplus South 2019
Barcodes & RFID
Rigid & Flexible Packaging
Flexible Intermediate Container
Woven, Sacks & other Bulk Packaging Solutions
End-Of- Line Packaging Solutions
Supply Chain, Logistics and Material Handling
VISITOR PROFILE
Important decision makers and specifiers from top and middle management from various industries including Pharmaceutical & Chemical; Food & Beverage, Dairy & Meat; Engineering; Garments & Textiles; Personal Care Products and Logistics will benefit by visiting the Show: Printers, Converters, Packaging Professionals and Packaging End Users as well as the providers of Materials, Equipment and Services will also visit in large numbers.
Mumbai :
Neetu Arora
Next Events (P) Ltd.
F 101, Tower No. 7, First Floor,
International Infotech Park,
Vashi Railway Station,
Vashi, Navi Mumbai 400 705.
Tel : 91-22-27812093,
91-22-27812619,
91-22-27812657
Fax : 91-22-27812578
Mustaque Ahmed
Mobile : 91-9819348505
New Delhi (NCR) :
Prateek Kaushik
Next Events (P) Ltd.
Advant Navis, Unit No. A1101B,
11th Floor, Plot No. 7,
Sector 142, Expressway,
Noida-201301,
Uttar Pradesh, India
Tel : 91-120-4258981, 91-120-4300586-587, 91-120-4695659-660
Mobile : 91-9899981610
Website : www.packplussouth.in|Email : info@nextevents.in
Disclaimer:The information furnished has been collected from varied sources, and hence, is subject to change. To confirm the show schedule kindly contact the show organiser.