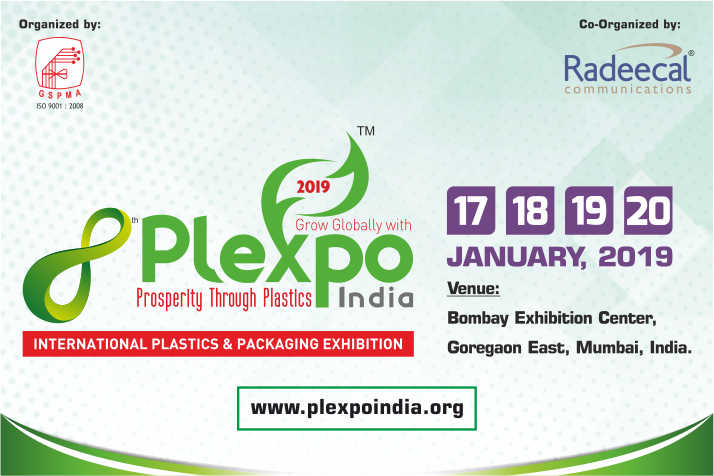 PlexpoIndia 2019 International Plastic, Packaging, Printing, Converting & Rubber Industries Exhibition
PlexpoIndia 2019
About the Exhibition: Plexpo
It is our privilege and honor to invite you to Plexpoindia 2019.
International Plastic, Packaging, Printing, Converting & Rubber Industries Exhibition, which will take place at Bombay Exhibition Center,
Goregaon East, Mumbai, India from 17 to 20 January 2019.
'Plexpo' International Industrial exhibition: GSPMA organizes International Plastic Exhibition every 3 years for the growth & development of plastic industry in India .
The exhibition is aimed at creating a strong and effective platform for buyers & sellers networking, launch and display of new technology, tie ups etc.
GSPMA is the first plastic trade association who launched The first-ever Plastic Trade Exhibition in India.
PlexpoIndia 2019 devoted to promoting excellence in the field of plastic processing and making Gujarat & India a preferred sourcing base for plastic processing machineries and plastic product from.
Plexpo India 2019 has been showcase of Investment Opportunities, Latest Technologies and Manufacturing capabilities.
500 Exhibitors from all over the world.
Participation of 10+ Countries with 1, 00,000 Business Visitors.
Live Demonstration of Plastic Machineries for Moulds, Printing & Packaging Products etc.
Emerged as one of the top Indian Plastic Exhibition.
To be mounted and spread across 25,000+ sq. meters area.
Business expected to be generated worth rupees 1500 crores.
Visitors & Buyers expected from over 10+ countries.
A grand hub to explore everything which is related to Plastic world.
About Organiser: GSPMA
GSPMA is a nonprofit body serving Plastic industry since 1970.
The Gujarat State Plastic Manufacturers Association (GSPMA) was established in 1970.
A member based not for profit organization of more than 2000 members. These members broadly consist of India's leading manufacturers of plastic processing machineries & its parts, auxiliary & ancillary equipments, plastic raw material, engineering plastics, master batches, fillers, machine parts and spares, packaging materials, packaging and printing machinery, moulds and dies, automation products, etc.
GSPMA is a leading Plastic Manufacturers Association in the country and is a founder member of PLASTINDIA FOUNDATION.
GSPMA is working for the cause of Plastic Industry since more than last four decades.
GSPMA is aimed at the development of Plastic Industry and safeguarding the interest of industry and for addressing the waste management & environmental issues.
From the last one decade GSPMA has widened its horizons and has expanded its reach to international level through overseas delegations, B2B meetings and participation in International exhibitions.
Since its inception, GSPMA has been promoting plastic industry in Gujarat and entire country.
Aims and Objectives of GSPMA:
To promote and develop plastic industry at the regional as well as national level by organizing national level exhibitions and thereby create awareness of latest technology in the industry.
Developing, promoting and protecting the interest and inter dependency of the plastic processing industries and encouraging the allied Interests by forming co-operation amongst the various organizations, Institutions and other bodies affiliated with the plastic Industry.
To project an appropriate image of Plastic Industry in the state and in the country and create presence of the industry before the competent authorities.
To carry out and promote Research and Development activities in various organizations, Institutions connected with the plastic industry.
Creating general awareness of plastic amongst the people by organizing seminars, discussions, lectures on various topics and publishing various publications.
To sell, purchase, export and import the industry requirements on behalf of members, if needed.
Educating end-users to the importance and benefits of plastic in daily life by providing information on plastic, empowering them with perspective and ideas to maintain a healthy urban environment.
To represent the problems pertaining to plastic industry before the State / Central Government authorities.
To promote energy conservation in the industry.
Initiatives of GSPMA:
Plastic and environment Awareness Program.
As the per capita consumption of plastics in India rapidly increases, we are witness of a phenomenal increase in the generation of plastic waste too. As this waste is often inappropriately disposed, valuable recyclable material is discarded along with other waste.
To encourage better waste management practices and recycling, GSPMA conducts awareness and sensitization program in schools, institutes, residential colonies and in corporate offices.
Awareness program on Plastics for School and College Students:
Helping students understand the importance of recycling and environmentally sensitive ways of handling plastic waste.
About Co-Organiser: Radeecal
Radeecal Communications has established itself as one of India's most successful exhibition organizers.
Our exhibitors and visitors now come to expect from us nothing less than a world-class event year after year. The repertoire of our events include exhibitions, trade shows, seminars and conference, on various industries such as agri exhibition, plastic expo, engineering trade show, waste management exhibition, technical textiles, logistics, wood & medical industries. Our team of expert operational staff is known for delivering reliable outcomes consistently. Exhibitors, sponsors & visitors are assured of unmatched value for their time and money at all our events.
We firmly believe that there is no better business referral than that given by a satisfied consumer. That is why we provide an assortment of creative ideas and make use of the latest trends and styles to successfully meet your demand at any scale that too in a budget.
Our Methodology
Our methodology for the planning and implementation of communication exercises is based on Structured Communication Strategies. Keeping the audience of the Campaign in focus, in tandem with the communication goals to be achieved, we draw up detailed plans that include the smallest elements that go into the making of the Exhibition/event. Each of these aspects is defined in terms of goals to be achieved, in terms of quality and is implemented in a specific time frame to ensure 100% effective communication and promotion.
Code of Ethics
Honesty and Integrity are always at the forefront of what our participant stands for, and we provide our participants with a symbol that indicates this level of commitment. The success of our participants is important and we hope to contribute to that success by promoting their commitment to excellence.
Organizational Philosophy
At Radeecal Communications we strictly believe and implement that maximizing value is not only an individual's task, or the management's prerogative, but is a collective responsibility of all those who are part of the system. Clarity of goals, well defined job roles and timely dissemination of information at all hierarchical levels ensure the desired output. At Radeecal Communications we treat goals as dynamic and ever changing and clearly foresee room for improvement. To us, improvement is a perpetual process, and to be achieved against all odds, at all times.
Event Location
Hall-2 , Bombay Exhibition Centre, Goregaon(E), Mumbai , Maharashtra ,India.
Bombay Exhibition Centre
NESCO, Goregaon East, Mumbai, Maharashtra 400063
Disclaimer:The information furnished has been collected from varied sources, and hence, is subject to change. To confirm the show schedule kindly contact the show organiser.